Instant Firm and Lift 2.0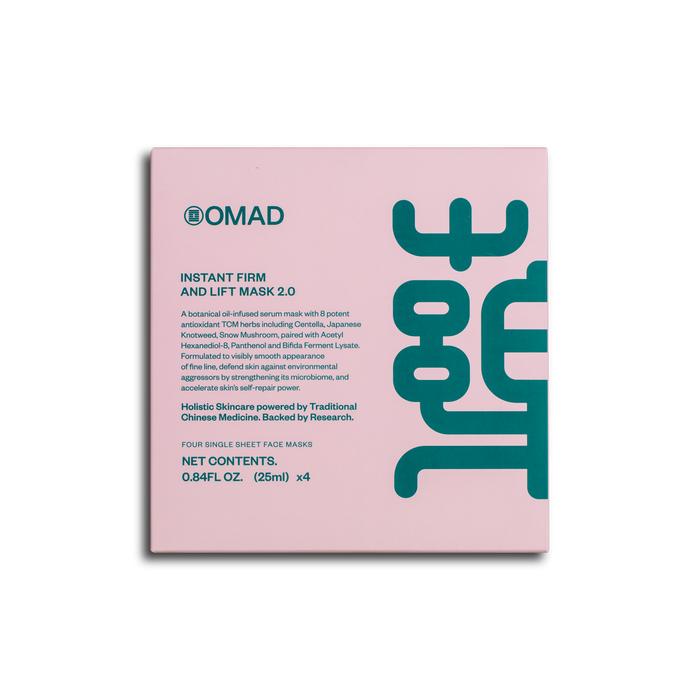 NOURISH AND HEAL
A special blend of Frankincense, White Water-Lily, Rhodiola Rosea, and 6 additional Chinese Medicinal Herbs. 
Paired with Acetyl hexapeptide-8 and Panthenol. Formulated to smooth fine line, reduce inflammation, and increase overall skin elasticity.
Each box contains 4 face mask sheets.
KEY INGREDIENTS
Frankincense oil: AKA "liquid gold" Frankincense, quite literally, is a skincare ingredient of mythical proportions. The substance has been a ceremonial staple in Traditional Chinese Medicine, and spiritual communities for centuries; it's cited in the Bible as one of three "gifts of the magi" presented at the birth of Jesus. Frankincense essential oil is said to treat dry skin and reduce the appearance of wrinkles, age spots, scars, promotes new skin cell growth, and tighten the skin.
White Water-Lily: helps balance cell renewal in the skin, increasing the elimination of toxins, and creating an environment where the cells in the epidermis can develop as they should. It purifies and detoxifies, soothing the skin against irritations while also providing a conditioning and moisturizing effect.
Rhodiola Rosea: With a high concentration of antioxidant polyphenols and proanthocyanidins it also provides added oxidative protection, combatting premature aging. It also has a stimulating effect on the skin increasing circulation and cell turnover, rapidly renewing collagen, and reducing the appearance of fine lines.
Acetyl hexapeptide-8: Commercially known as Argireline, Acetyl Hexapeptide-8 is a synthetic peptide made from a protein found in Botox. It's primarily used in anti-wrinkle and anti-aging creams or serums. It's designed to reduce wrinkles around the mouth and eyes, and on the forehead and cheeks among other areas.
Panthenol: The National Center for Biotechnology Information lists panthenol as a skin protectant with anti-inflammatory properties. It can help improve skin's hydration, elasticity, and smooth appearance. It also soothes red skin.